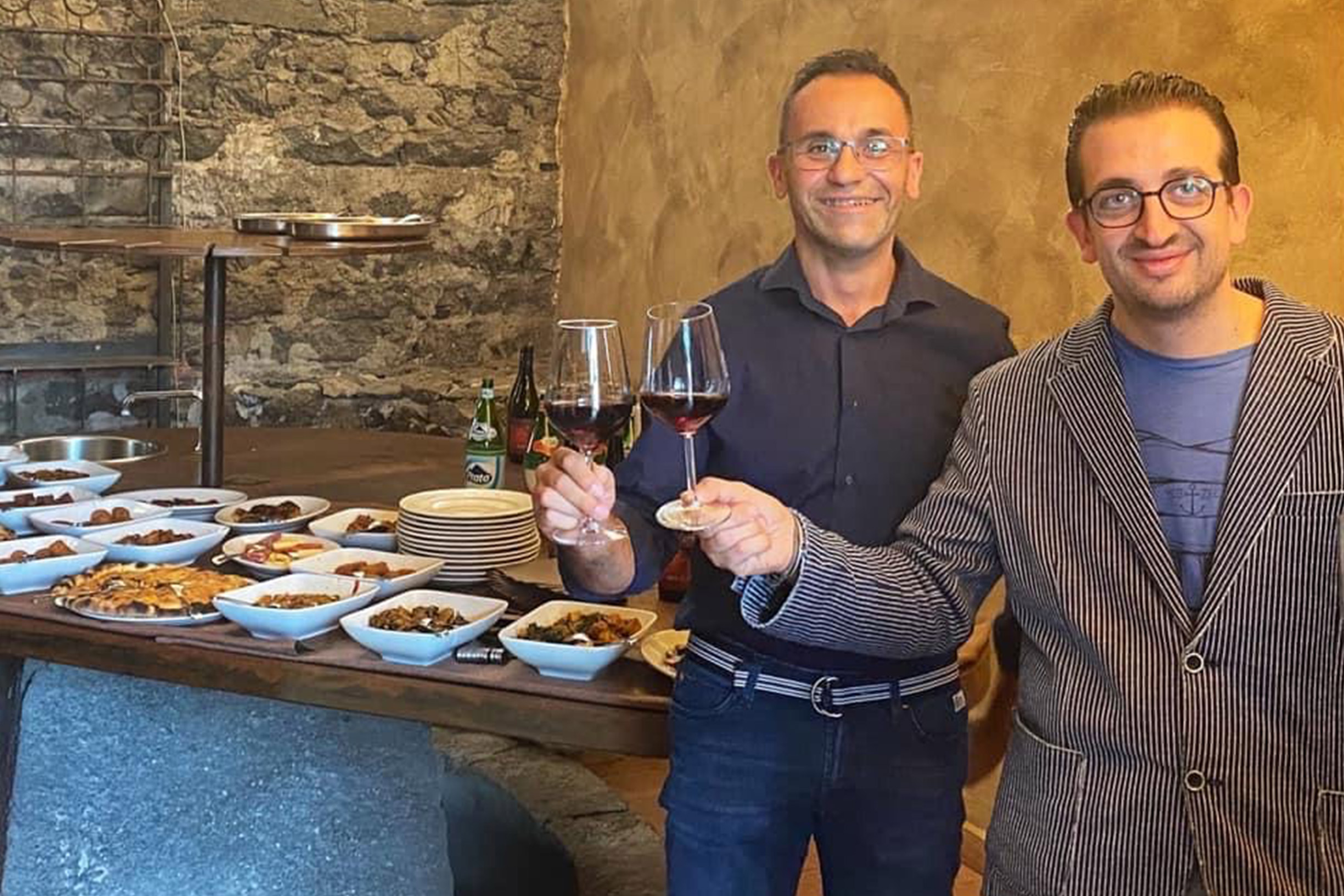 Enoteca dell'Etna
The Etna wine shop is located inside the Palmento Arena in Ragalna. The ancient rural settlement, now completely renovated, consists of three units, and one of these still houses one of the first motor mills. The Enoteca dell'Etna, managed by the two entrepreneurs Domenico Moschetto and Salvo Caruso, offers food and wine tastings that accompany the customer on a journey full of experiences. The shop of the wine shop is an entire area to be discovered among beauty, scents and flavours, where you will find a careful selection of typical products and local crafts: a selection that best represents the identity and culture of the land of Sicily. Within these spaces, in addition to the proposed labels, you can discover and taste the entire line of #myetna products: the best of food and beverage made in Sicily.
Enoteca dell'Etna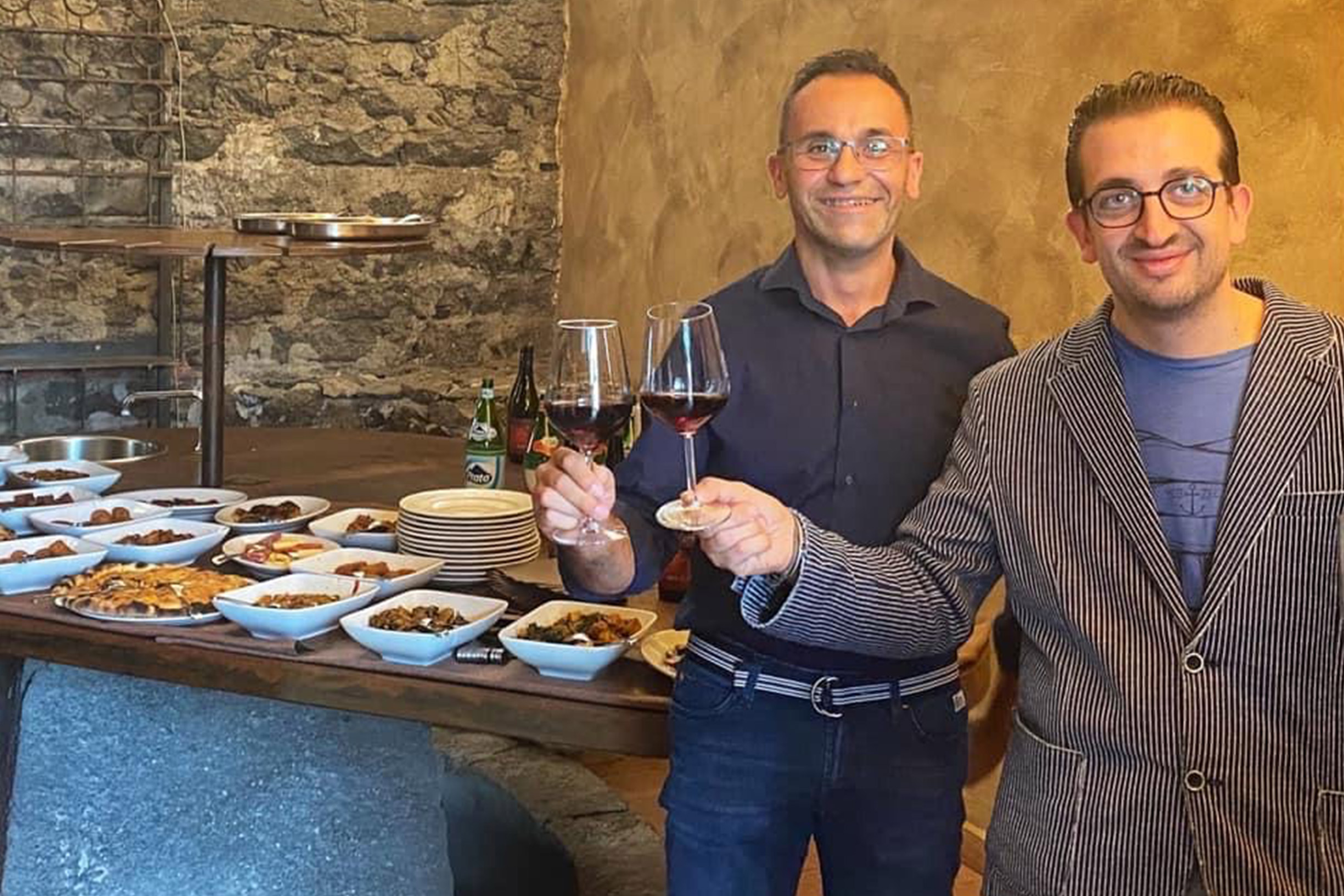 L'enoteca dell'Etna si trova all'interno del Palmento Arena di Ragalna. L'antico insediamento rurale, oggi completamente ristrutturato, è costituito da tre diversi ambienti utilizzati in passato per svolgere le attività agricole legate al territorio, soprattutto la vinificazione.
Infatti ha ospitato uno dei primi palmenti a motore e oggi custodisce ancora segni evidenti del lavoro che si svolgeva al suo interno.
Oggi l'Enoteca dell'Etna, gestita dai due imprenditori Domenico Moschetto e Salvo Caruso, è un luogo magico in cui vino e gastronomia si fondono per accompagnare l'avventore in un viaggio ricco di gusto e passione. La professionalità e la cortesia sono la cornice perfetta di questo splendido angolo situato all'interno del comune di Ragalna (CT).
L'intenditore navigato come il neofita che si accosta al vino per la prima volta, troveranno – in questa cornice di pura
convivialità – i vini dell'Etna che potranno assaggiare direttamente nei calici.
Wine experience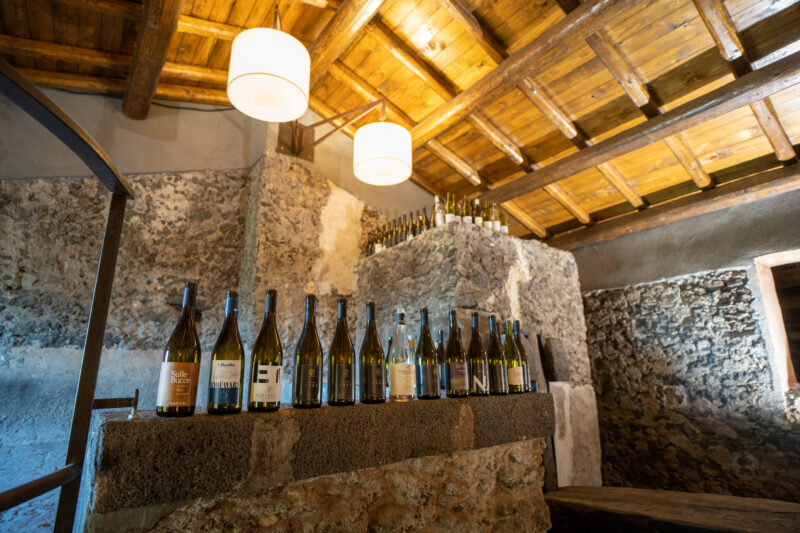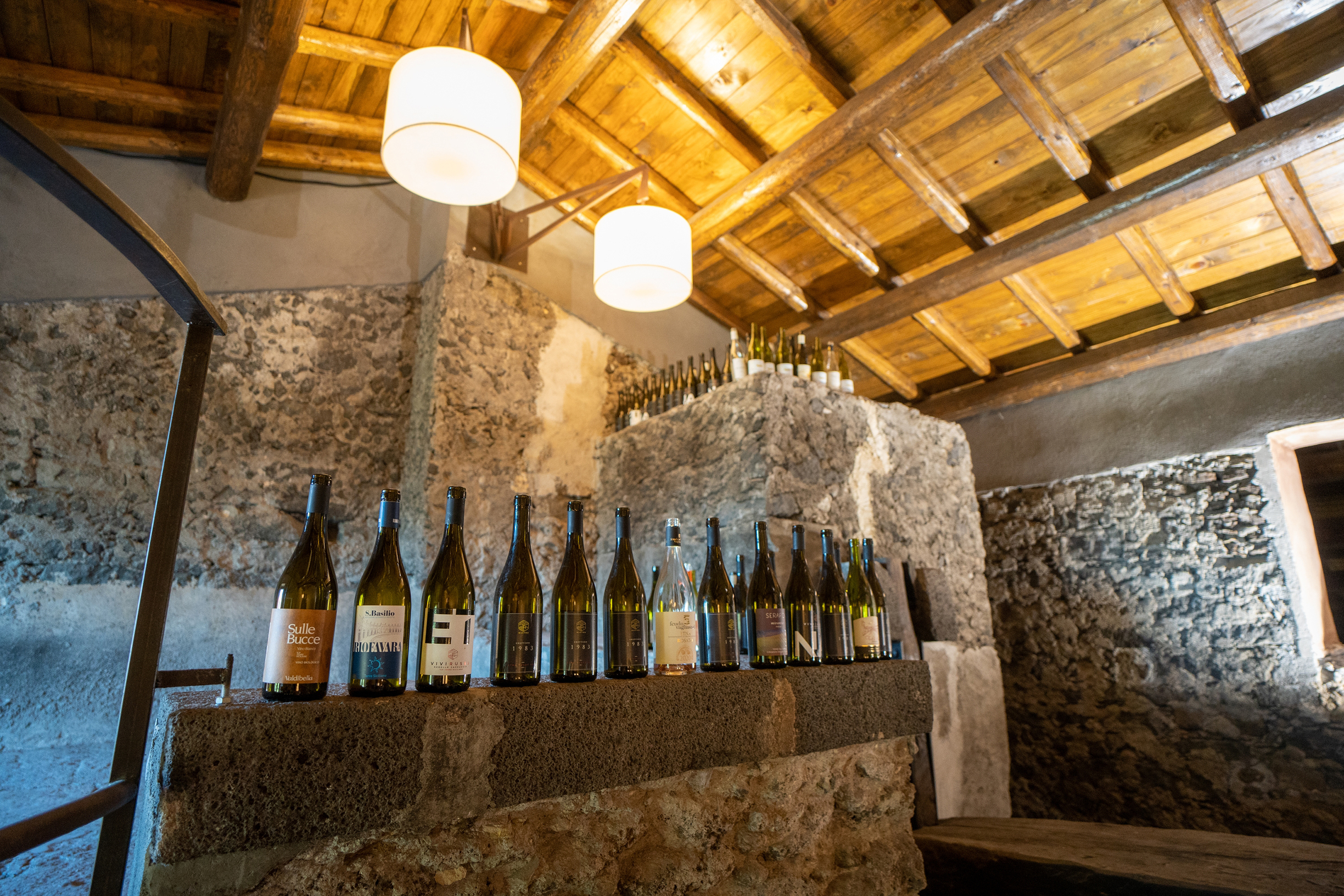 Immersa nel cuore della #stradadelvinodelletna, l'enoteca è un luogo dalle mille suggestioni, dove storia, paesaggio, tradizioni hanno trovato una sintesi perfetta. Un luogo che regala atmosfere magiche con lo sfondo dell'Etna.
Tra gli obiettivi del nostro progetto, oltre alla diffusione della cultura del vino attraverso la promozione della produzione vinicola regionale, vi è la valorizzazione della produzione dell'olio extravergine d'oliva di produzione locale e la sua promozione; la protezione dell'identità e delle tradizioni del territorio di Ragalna e dell'Etna, con particolare attenzione alle risorse enogastronomiche, agricole,artigianali ed artistiche.
All'interno dell'Enoteca dell'Etna la degustazione si trasforma da piacere a esperienza affascinante, che coinvolge tutti i sensi sollecitandoli con colori e profumi. L'avventore viene accolto e condotto nella degustazione attraverso la scoperta di sensazioni, sapori e profumi coinvolgenti.
Experience
Immersed in the heart of the #stradadelvinodelletna, the wine shop is a place of a thousand suggestions, where history, landscape, traditions have found a perfect synthesis. A place that offers magical atmospheres with a wonderful background: Etna.
Among the objectives of the project: Enoteca dell'Etna, in addition to the dissemination of wine culture (regional wine production), there is the enhancement of local oil production and its promotion; the protection of the identity and traditions of the territory, particular attention to food and wine, agricultural, artisanal and artistic resources. Inside the Enoteca dell'Etna, tasting is transformed from pleasure to involvement for all the senses, soliciting them with colors and scents, in fact the seasoned connoisseur as well as the neophyte who approaches wine for the first time, will be able – in this frame of pure conviviality – travel" through the most suitable territories of Sicily, while sitting comfortably at the Enoteca.
Remember: "Every bottle is a story to discover" (cit. Domenico and Salvo)